Dr. Mario Gutierrez
Learn about Dr. Mario Gutierrez, the founder of Vision Source Alamo Heights, and his exceptional history and expertise in the optometric field.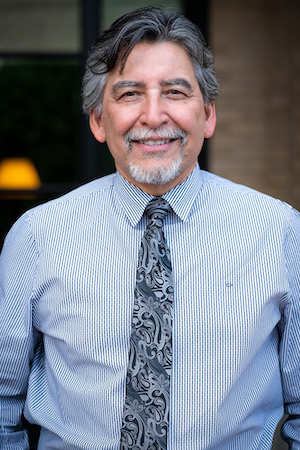 Dr. Gutierrez is an adjunct professor for The University of Houston College of Optometry, UIW Rosenberg School of Optometry, appointed to the Texas Optometry Board, practice management lecturer, medical optometry lecturer, and a member of the Chairman's Club for his philanthropic work associated with Optometry Giving Sight (Philanthropist of the Year 2011).
He is accepting new patients by referral only (other doctors or by his current patients).
He received his Bachelor of Science degree in 1981 and his Doctor of Optometry in 1984 from the University of Houston. Other work that led to this field was his externship at Brooke Army Medical Center. He entered practice with Southwest Eye Associates from 1984 to 1988. His work continued with the Cataract Institute of South Texas from 1988 to 1990, where he received extensive training in the management and treatment of eye diseases.
He has been in private practice from 1990 to present. In addition, Dr. Gutierrez was for 28 years the administrator for 29 San Antonio Vision Source offices. Dr. Gutierrez was one of the first Vision Source offices in the country and started and founded Vision Source in San Antonio. Vision Source is a network of premier private practices with over 3500 offices in the United States.
His Honors include:
TLC Laser Center Advisory Board Chairman,
Administrator of the Vision Source San Antonio region
Chairman of the Independent Eyecare Providers of Texas,
Director/CEO of Marrand Productions, Inc.,
President of VS Specialty Labs,
LP. General Manager of VS Specialty, LLC.,
Co-Chair of Texas Optometric Association Third Party Committee,
Vice President of N2 Eyes, LLC, Board member of Essentia Pharma, LLC,
Principle and Founder of 2MEye, LLC Consulting.
Dr. Gutierrez is a member of the:
American Optometric Association,
Texas Optometric Association,
American Academy of Optometry
Bexar County Optometric Society.
He has been a Fellow of the prestigious American Academy of Optometry since 1992. He has also been involved as a Nursing Home Eye Care Consultant from 1988 to 2000.
He has participated in many continuing education board discussions.  His lectures include:
Optometric CE on Cataract Surgery Co-management,
Contact Lens Society of Texas on Orthokeratology,
Optical Labs Manufacturers Association on Anti-reflective coating,
Corneal Refractive Therapy.
He has also been published in numerous articles in Review of Optometry, Primary Care Optometry, Advanced Ocular Care,  and other eye care publications. He completed the advanced laser training/certification program at The Laser Therapy for the Anterior Segment Course in Tahlequah Oklahoma (July 2015), and The Surgical Procedures for Optometric Physicians (July  2016).
He was appointed by Governor Greg Abbott as Chair of the Texas Optometry Board 2019.
Specialty areas of work in his practice include:
Orthokeratology Advanced Corneal Molding Practiced Since 1984-Keratoconus and Specialty Contact Lens Care.
Lasik Surgery Consultation
Dry Eye Treatment
Optical Specialization in Fitting Patients with latest State of the Art Lenses and Designer Frames
Clinical Investigator for Contact Lenses and Contact Lens Solutions.
Continuing Education Lecturer for Bausch & Lomb Pharmaceuticals
Continuing Education Lecturer for Inspire Pharmaceuticals
Continuing Education Lecturer for Allergan Pharmaceuticals
Continuing Education Lecturer for Coopervision
Educational Presenter for Hoya
Principle and Founder of "Your Eyes the User's Guide" patient education system
Inventor of MG Expressor used to treat meibomian gland eyelid disease
Inventor of MG Lid Plate used to help relieve chronic meibomian gland eyelid dysfunction. Can be viewed here.
Author of Save A Life: Neuro-Optometry Primer: The Brain. Published in 2009. Can be viewed here.
Author of Neuro-Optometry Primer: The Brain. Published in Pharma-supplement to Australian Optometry. March 2011.
Adjunct Professor University of Houston College of Optometry
Adjunct Professor UIW Rosenberg School of Optometry
Appointed by Governor Rick Perry to the Texas Optometry Board
Author of Demodex Eyelid Treatment, Published in Primary Care Optometry News.
Diplomate American Board of Optometry
Inventor/designer of Gutierrez Bleph Brush use to treat blepharitis
Inventor of Gutierrez Eyelid Plate Plus use to treat meibomian gland disease and used as a multi exam instrument
Appointed to Vision Source Administrators Advisory Board
Appointed as Chair Rules Committee, Texas Optometry Board
Author/Web Master for Self Refractionalization TM, practice management web page
Appointed by Governor Abbott as Chair Texas Optometry Board
Senior Advisor, Chief Medical Officer Vision Source
---